Best Places For Your Child's Birthday Party in the Memphis Area
Posted by Mickey McLellan on Sunday, March 18, 2018 at 9:16 AM
By Mickey McLellan / March 18, 2018
Comment
When parents are looking for a new home to purchase, there are a number of features they tend to look for: family-friendly neighborhoods, great schools, low crime, and location location location. Mid-South favorites like East Memphis, Germantown, and Collierville fit the bill for these amenities and more! Areas that are attractive to families are likely to have a large number of children, and therefore a large number of birthday parties for children. Although The JudyMac Team assists sellers and buyers with hundreds of homes each year that are perfect for throwing big birthday bashes, sometimes you just do not want to have to deal with making food, decorating, or cleaning up the messes afterward. If you have been dreading cleaning cake icing out of your carpet again, keep reading - we have put together some of the best places to have birthday parties for kids on the east side of town.
For the little ones
If you are planning a party for a baby or toddler, you do not want to have it anywhere that will be too loud or overwhelming. The following options are perfect for a fun experience at a slower pace.
Maple Grove Farm
4961 Windsong Park Drive
Collierville, TN 38017
Tucked away on 47 beautiful acres, Maple Grove offers birthday parties on weekends all year long. Even winter babies can get in on the action, as there is a heated party room available for when temperatures dip a little too low for outside fun. Their party package is for up to 20 children and includes:
two hours for the party, plus staff to lead scheduled activities
a petting farm
horse rides
a climbing wall
moon bounce
and a hayride
For the warmer months, there is also an additional Bonfire and Hot Dog Roast package available. This includes an extra half hour of party time, hot dogs, chips, drinks, s'mores, ice, cooking utensils, and paper products. All you need to bring is cake!
#1 Wolfchase Galleria
2760 N Germantown Pkwy #124, Memphis, TN 38133
#2 Carriage Crossing
4674 Merchants Park Cir, Collierville, TN 38017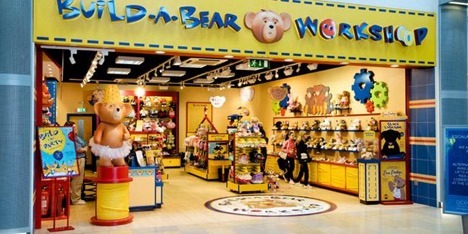 If you have never been to a Build-A-Bear party, you are missing out on an adorable experience. Kids of all ages are in for a treat with this sweet party that ends with every guest making and taking home their own chosen furry friend. There are multiple packages to fit any budget, and you are able to pick your own theme. After you arrive, you can pass the party baton to your enthusiastic party leader and let them guide the group fun. No mess, no fuss, and a very special party favor makes this an ideal choice for kids who love to cuddle.
Carrefour at Kirby Woods
6645 Poplar Ave, Unit 103
Germantown, TN 38138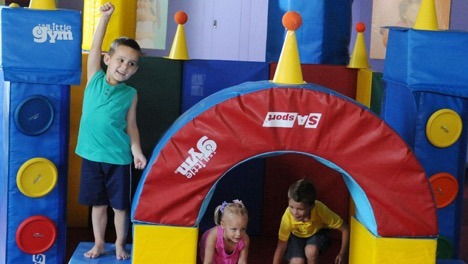 The Little Gym of Germantown provides a happy and positive learning environment for your child to try new things, and that includes their Awesome Birthday Bash parties, named Best Gym Party by Parents Magazine. The Birthday Bash is a private party lasting an hour and a half and includes a qualified birthday leader plus an assistant to help herd your partygoers, all the set-up and clean-up, Little Gym invitations, a Little Gym T-shirt for your birthday boy or girl, and they even have a handy gift registry. You will have full run of the facility, with lots of instructor-led games, music, and LEGO Juniors and Duplo building activities created especially for your child.
For bigger kids
If you are looking for unique ways to celebrate with your older child on their birthday, we have got just the list for you. From pottery to go-karting, and everything in between, these party options will give you a birthday party to remember.
Collierville Arts Academy
1990 W. Poplar Ave, Ste. 104 & 105
Collierville, TN 38017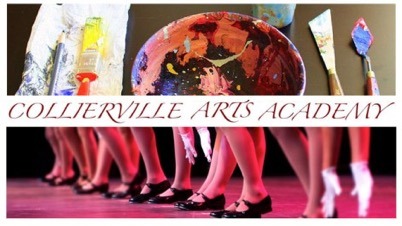 An art academy specializing in the performing, fine, and martial arts might seem like a strange choice for a birthday party, but Collierville Arts Academy actually offers some of the most unique party packages in the Mid-South! You can choose from:
This is great for kids around 4-7 years old, and includes ballet storytime, a mini-ballet class with a ballet instructor, dance games, and dress up play with tutus, tiaras, and more!
Best for kids ages 6+, this is the perfect party for the young Jedi among you. Led by a real martial arts master, party guests will be instructed in the ways of the Jedi world by reciting the Jedi code, playing Jedi battle games, and learning the real moves of a true Jedi.
Perfect for children ages 7-12, this package features colorful disco lights, a mini hip-hop dance class with a professional instructor, dance games, a dazzling dress-up trunk to play in, and awesome dance music with free studio dancing time.
For a truly challenging birthday party, book a Battle Bash! Best for ages 6+, this package includes training in basic combat skills by a professional padded weapons instructor, who will then lead all the guests in super fun battle games they will remember long after the party is over.
Each party at the Collierville Arts Academy lasts two hours, and although you will need to provide any food and drinks you want to be served, the party price does include tablecloths, plates, napkins, and utensils, as well as room decor and small favor bags.
Seize The Clay
Chickasaw Oaks Village
3084 Poplar Ave
Memphis, TN 38111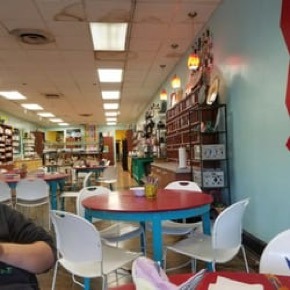 Seize the Clay is a Paint-Your-Own-Pottery studio in the city of Memphis, they offer several amazing party packages, such as:
The Practically Perfect Party Package
For children ages 5+, this is the most popular party package Seize The Clay offers. Partygoers can choose from a large assortment of pieces, including boxes, piggy banks, and figurines.
Best for ages 12+, staff will show guests how to cut and assemble their own glass art. Children will make 4 pieces of fused glass jewelry to wear, and bails are included for finishing the pendants so they will be wearable, for a lovely party favor that lasts!
The new Doin' The Dishes Party
Kids ages 5+ will be able to choose from a selection of plates, cups, and bowls in popular styles. All pieces will be food safe and dishwasher safe once they have been fired. This packages put the FUN in FUNCTIONAL!
The Canvas Painting Party Package
Your birthday boy or girl will be able to choose one of our paintings for their party guests to paint. Staff will then give painters step-by-step instructions in creating the chosen painting while allowing for their own individual flair! The canvas size 12x12 and is a wonderful keepsake for birthday guests.
All party packages at Seize The Clay are 1.5 hours long and include a painting project for each child and a craft where they will color a beautiful design on the bag their piece will be returned to them in. Your birthday child will also receive a customized birthday plate painted by a Seize the Clay artist with your child's handprint on the front and all of their party friends' thumbprints on the back.
Get Air Trampoline Park
952 W Poplar Ave.
Collierville, TN 38017

Does your birthday boy or girl have a lot of energy? Do they love to jump around on beds, sofas, and any other available surface? This is the party place for them! Get Air has two party package options.
This party includes up to ten jumpers with jump socks for each, two hours of combined jump and party area time, a t-shirt for the birthday child, two large pizzas, and two 2-liter sodas.
This package option includes up to ten jumpers with jump socks for each, two hours of combined jump and party area time, a t-shirt for the birthday child, a waived outside food fee, two large pizzas, two 2-liter sodas, a Mini Melts Ice Cream Cup for each jumper, and a special Get Air party favor for each jumper.
Table coverings, plates, utensils, cups, and napkins are included with each package, and all set up and clean up is handled so all you need to worry about is everyone having fun!
Autobahn Indoor Speedway
6399 Shelby View Drive
Memphis, TN 38134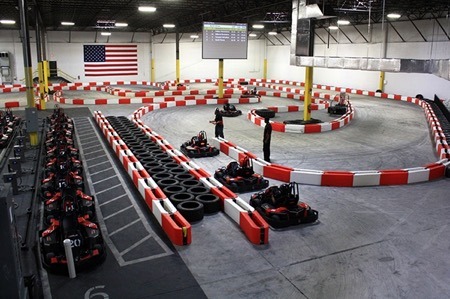 Are you celebrating a child who has a real need for speed? Autobahn Indoor Speedway provides an exhilarating party experience! Best for children around 8+, partygoers can race Italian "pro-karts" at speeds of up to 50mph. These karts are fast, but also safe. With private racing on pristine tracks, friendly and knowledgeable staff, and dedicated event planners and event captains to handle everything from catering to race prizes, this is one birthday party package the kids will never forget.
Helping you celebrate with your family for years to come
Now that you have learned more about the best places for birthday parties in East Memphis, Germantown, and Collierville, it is time to find the perfect home for your family! Our award-winning team has what it takes to make buying or selling a home a positive and exciting experience, so get in touch with The JudyMac Team of Crye-Leike Realtors today if you are ready to move to your dream home! Give Judy a call today on her cell at 901-277-5839 or at Crye-Leike 901-756-8900 to schedule your next appointment!