Healthy Living in Memphis, Germantown, and Collierville
Posted by Mickey McLellan on Friday, January 5, 2018 at 10:26 AM
By Mickey McLellan / January 5, 2018
Comment
The Greater Memphis Area is full of wonderful options to make living a healthy lifestyle easy and fun all year long! Although we can't make you get up early to go for that run or hit the gym before work, we can help you out with a list of some of the best places to exercise in East Memphis, Germantown, and Collierville. We are fortunate to have some fantastic parks, trails, and gyms available that make it easy to mix up your routine, keep things fun, and achieve fitness goals and implement a healthy lifestyle for you and your family.
Parks & Trails:
Memphis' Shelby Farms Park is the largest urban park in the United States! The park's 4,500 acres include more than 40 miles of trails that are perfect for biking, walking, running, or hiking. In addition to the trails, the park boasts 20 lakes, a couple of which are large enough for kayaking, canoeing, stand-up paddle boarding, and sailing. They have rentals available at the park, or you can bring your own boat (check website for details & regulations).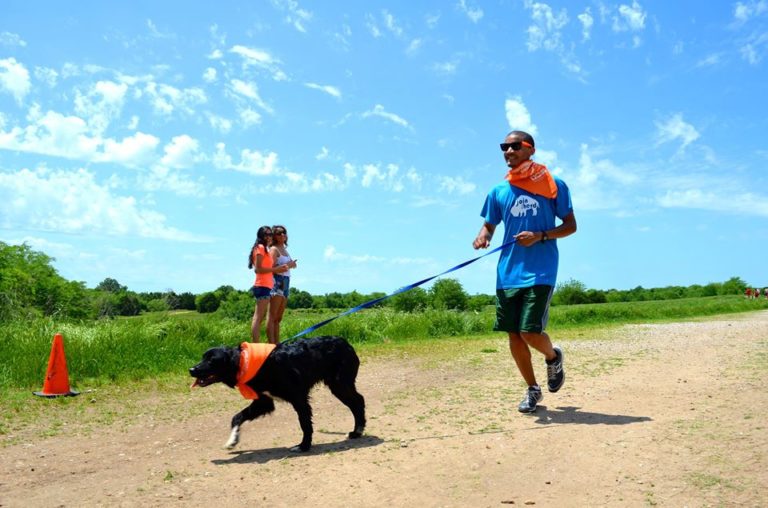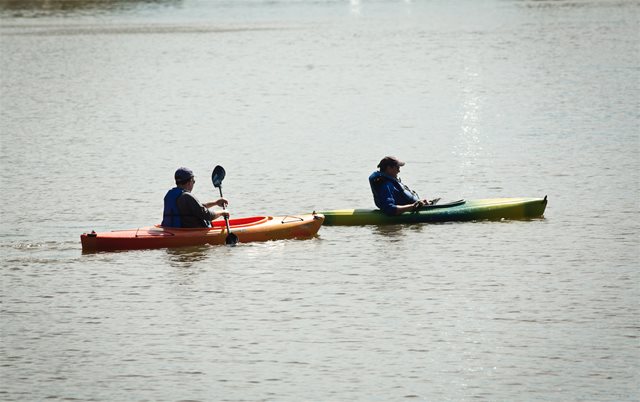 Trail Running and Kayaking in the park (photos via Shelby Farms Park)
The Shelby Farms Greenline is one of the best parts about Memphis for cyclists and runners. 10.65 paved miles of urban trail perfection connect pedestrians and cyclists from Midtown to Cordova, passing through Shelby Farms. If you don't own your own bike yet, there are rentals available from the park, or if you're a little more experienced and adventurous, the park has a BMX track as well.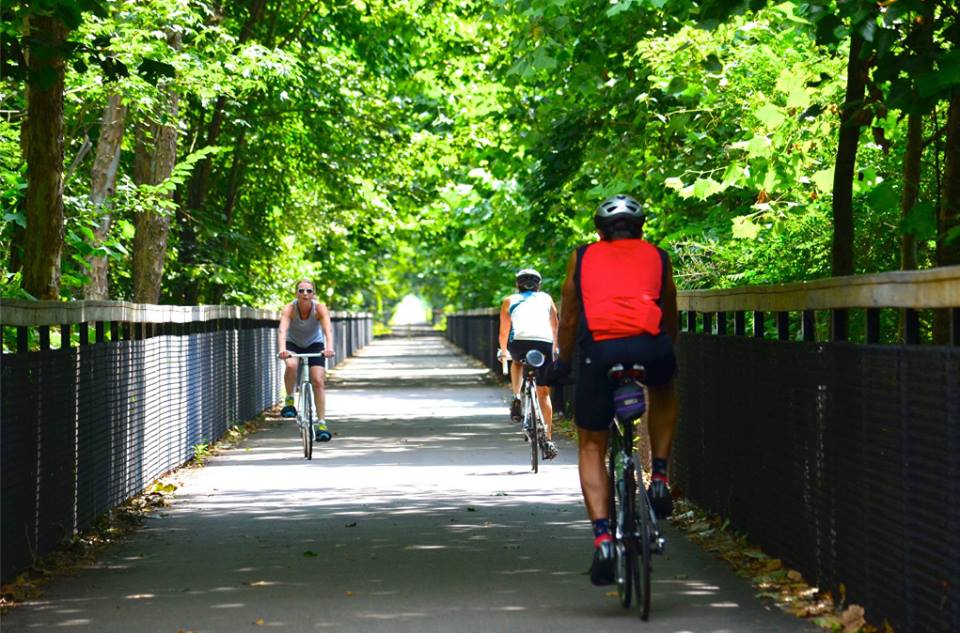 Cycling along the Greenline (Photo via Shelby Farms Greenline)
The Wolf River Greenway is a work in progress being built in phases, but parts of it are already completed and serve as wonderful places to walk, run, or bike. Eventually, this 10-12 foot wide pathway will span a total of 36 miles connecting Mud Island all the way to Collierville. If you like to get your exercise with a bit of adventure, The Wolf River Conservancy puts on several events along the Greenway and the river itself that you might enjoy, such as a monthly canoeing or kayaking trip on the first Saturday of each month.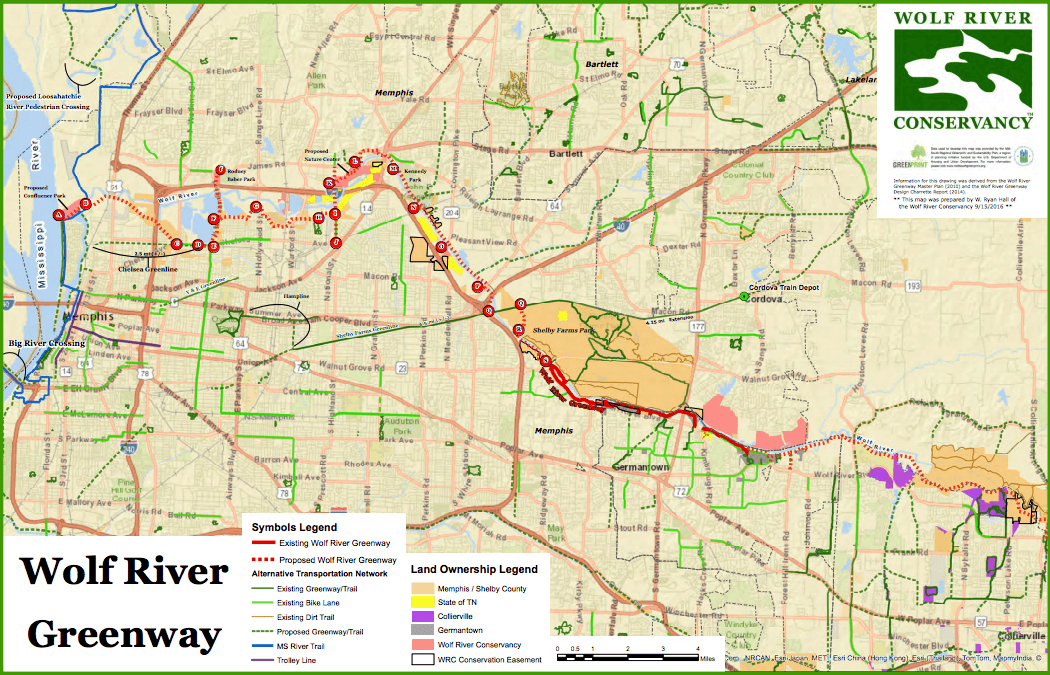 Map from Wolf River Greenway showing current standing and future plans for the project
Memphis Park Services maintains 167 parks with numerous trails and athletic facilities, but we want to highlight a couple of our favorites: Overton Park and Tom Lee Park. If you are in East Memphis or Midtown, you will love Overton Park! The park's 342 acres include a walking trail and biking trail, golf course, and a soccer field. For our downtown Memphians and visitors, the 30 acre Tom Lee Park boasts scenic views of the Mississippi River from its RiverFit Trail with fitness stations for outdoor interval training along the way, and it also includes a soccer field and beach volleyball courts.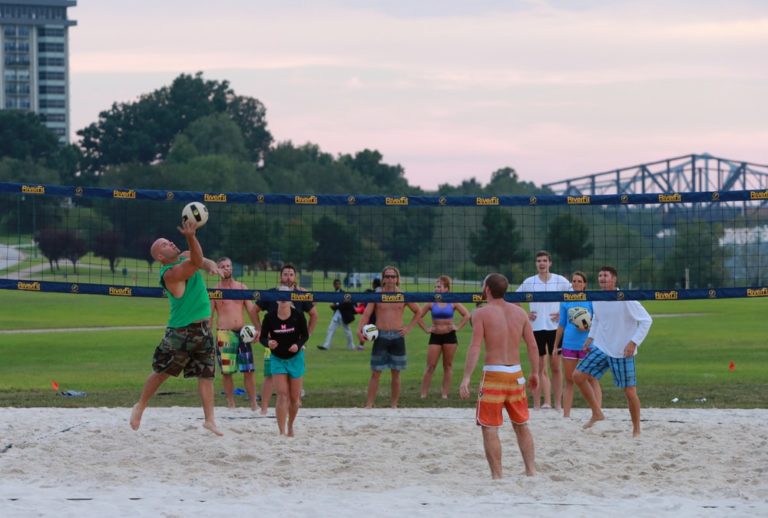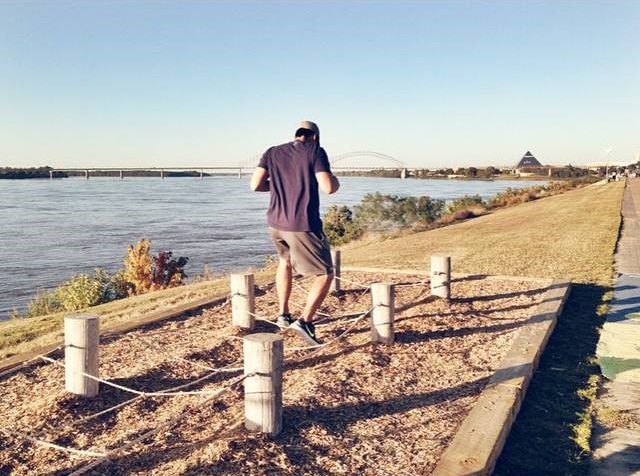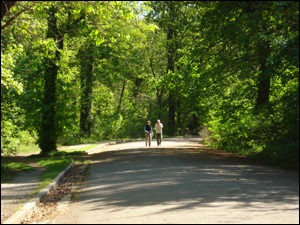 Left to Right: Beach volleyball and one of the Riverfit exercise stations at Tom Lee Park plus the walking/cycling trail at Overton Park (photos from Memphis Park Services)
The City of Germantown's Parks and Facilities encompass more than 750 acres and include 29 parks and sports complexes that are full of biking/walking trails and athletic fields. These parks help the city meet its goal of "placing recreational and leisure opportunities within a half mile of every home." Cameron Brown Park is one of our favorites in the heart of Germantown, and it offers 5 lighted baseball fields, one combination soccer/football field, 2 tennis courts, and a 1.5-mile paved hiking and running trail around a lake for all of your exercise needs!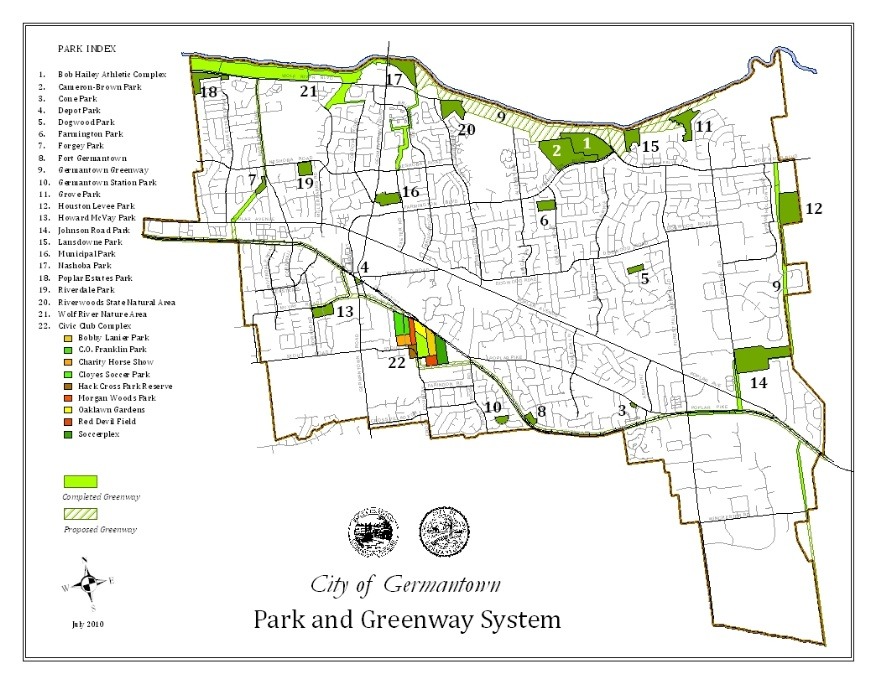 Map from City of Germatown detailing location of all city parks
The Collierville Park System is made up of 20 different parks covering 750 acres of parkland with 30 athletic fields, 10 tennis courts, and 18.58 miles of trails to meet all of your outdoor fitness wishes! One of our favorites is W.C. Johnson Park, which spans 271 acres including natural wetlands, 3 lakes, an elevated boardwalk stretching .70 miles, 9 baseball/softball fields, 2 synthetic turf multipurpose fields, and 3.15 miles of trails that connect to the Collierville Greenbelt System. Additionally, the park has a huge playground and outdoor water spray park to keep the kids happy, too!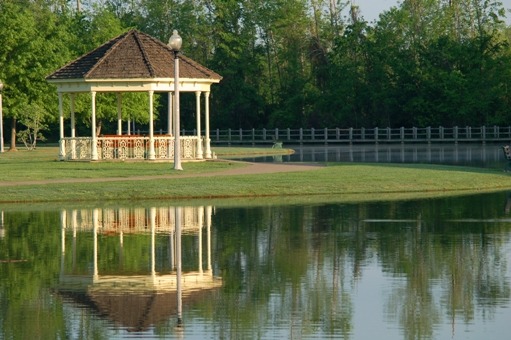 Photo of W.C. Johnson Park from City of Collierville
Gyms:
The Germantown Athletic Club and Collierville's Lifetime Fitness boast state of the art workout equipment, swimming pools, and spa facilities, and 100s of classes to meet the needs of all fitness enthusiasts. If you need a little motivation or instruction, these classes are perfect to increase the effectiveness of your workouts and hold you accountable! These are just two of the many gyms in these communities, but they have EVERYTHING!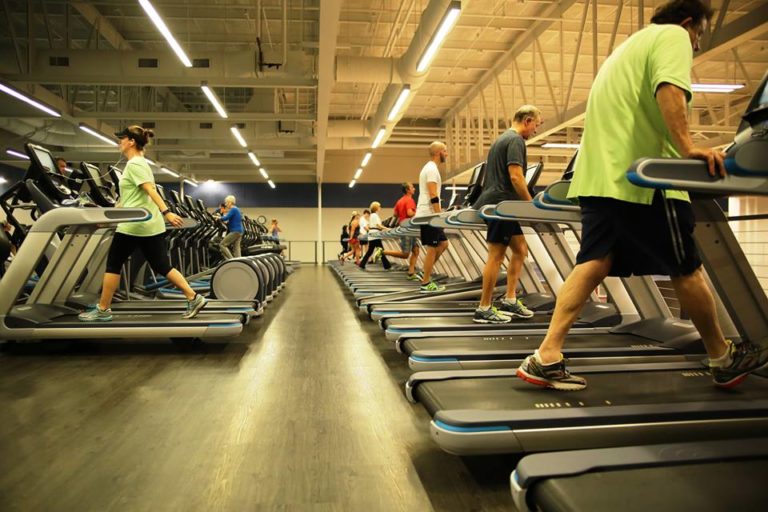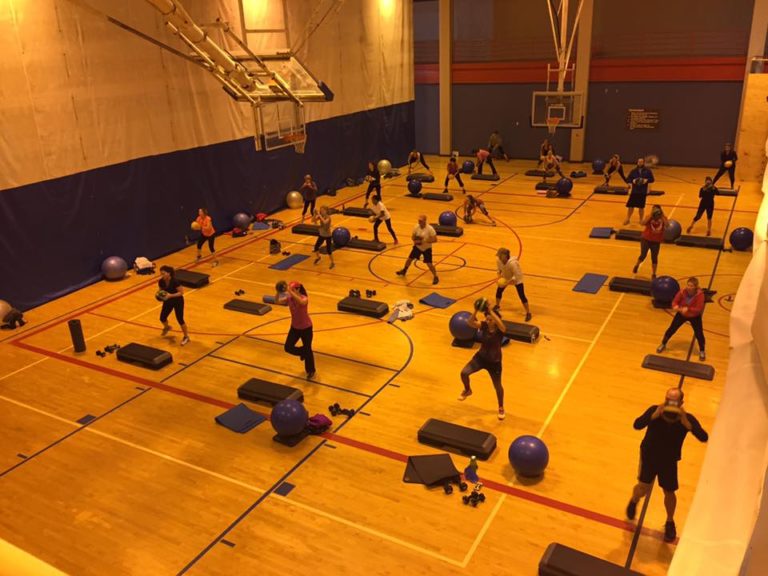 Left- Photo from Germatown Athletic Club showing part of their extensive collection of cardio equipment
Right- Photo from Lifetime Fitness Collierville of one of the many classes underway in their basketball gym
Run/Cycle Clubs:
Breakaway Running has a midtown Memphis location and a Germantown location. Both locations have free run groups that meet multiple times a week. Check their Facebook page for more info. Additionally, Fleet Feet Sports has locations in Memphis and Collierville with groups that meet on Mondays, Thursdays, and Saturdays, and they keep people updated on Facebook, too!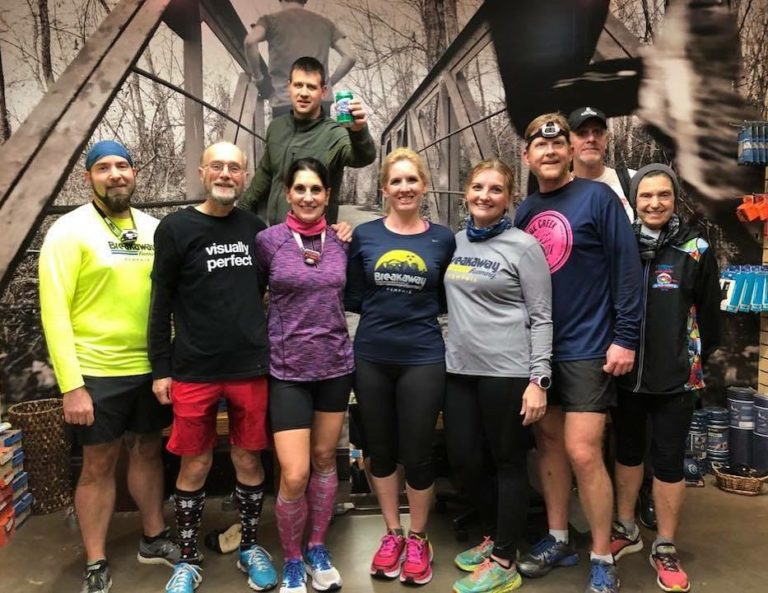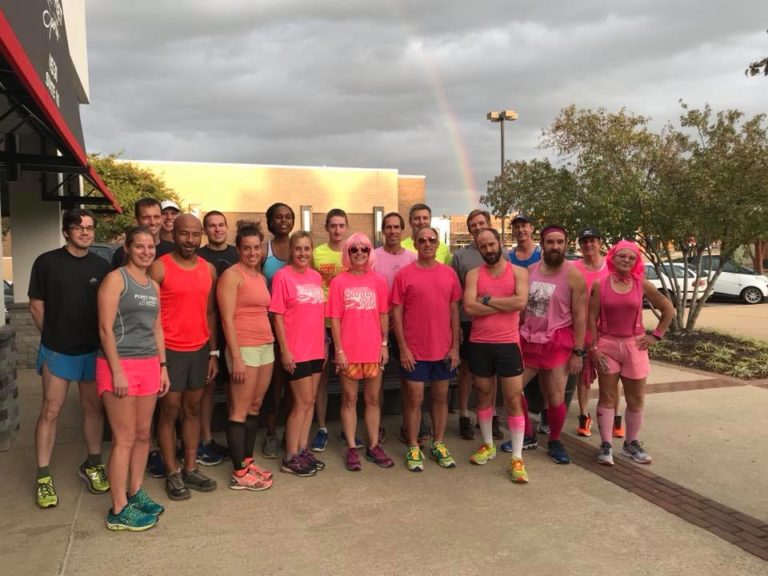 Left- Photo from Breakaway Running showing one of their weekly run groups
Right- Photo from Fleet Feet Memphis showing one of their weekly run groups during Breast Cancer Awareness Month
If you prefer two wheels to two feet, then you should join up with the Memphis Hightailers for some of their free group cycling rides each week! They have ridden almost daily for riders of all skill levels. Victory Bicycle Studio and their more recreational sister store Pedaltown Bicycle Company have everything you need to get started cycling, and they also offer weekly group rides on Sundays when the weather allows.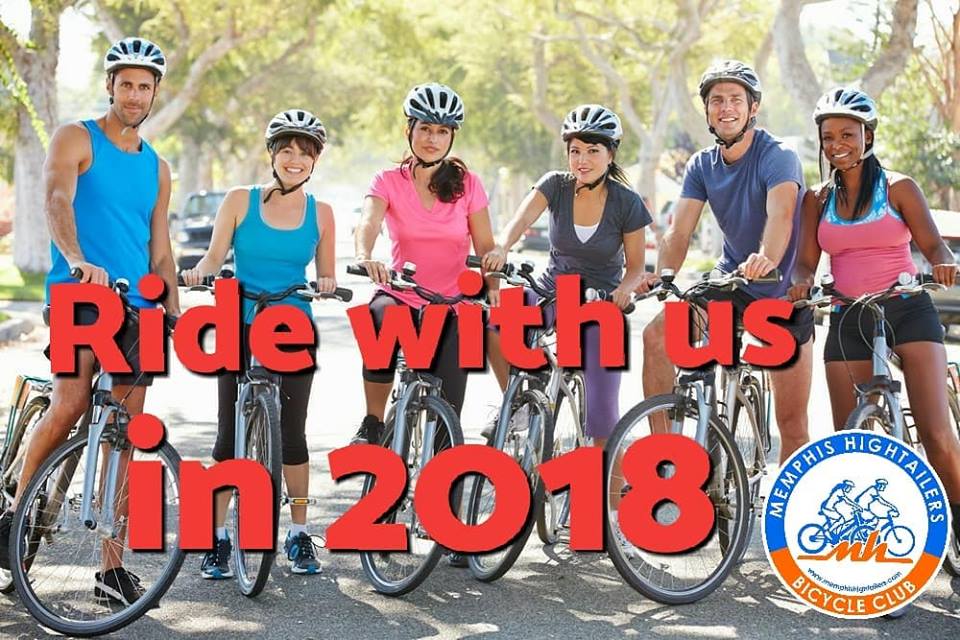 The Memphis Hightailers are waiting on you!
Leagues:
If team sports are more your thing, Memphis has some great adult leagues to consider. The Memphis Jewish Community Center hosts two of the region's best adult basketball leagues. Meanwhile, the Greater Memphis Soccer Association has been home to the largest adult soccer organization in the mid-south since 1979, with indoor and outdoor seasons so adults of every skill level can enjoy the game year-round. The outdoor league plays at the incredible Mike Rose Soccer Complex with flexible schedules. If you're looking for a more laid-back option, the Memphis Kickball League is growing in popularity and if you're new to the area is a great way to meet people while getting a little exercise. Footgolf is another sport that is rapidly growing in popularity, and the Memphis Footgolf Club has one of the premier courses in the area!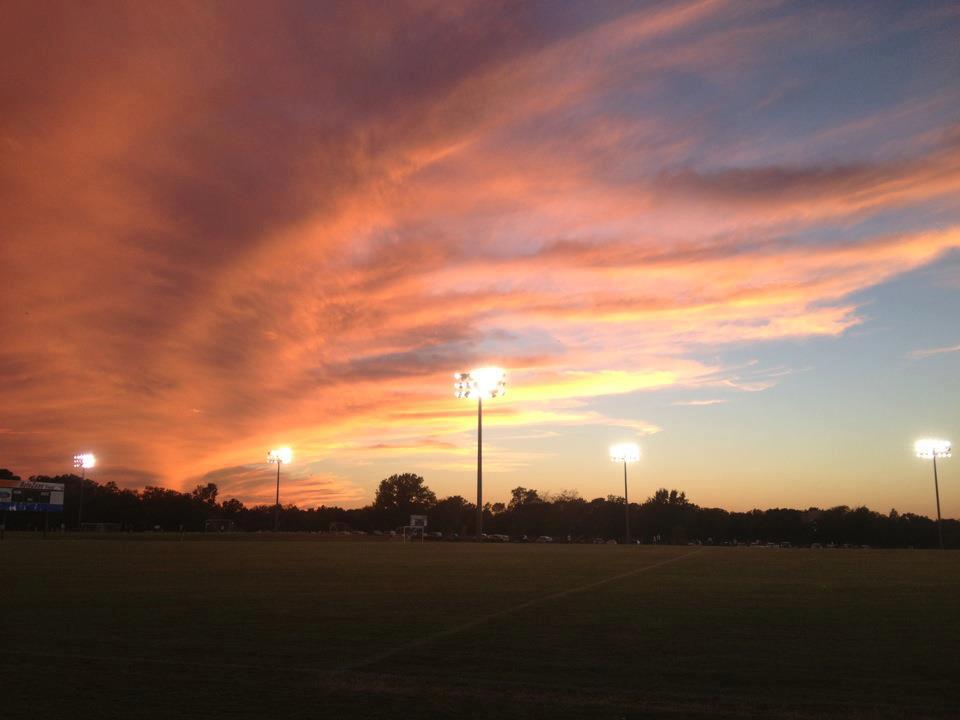 Beautiful sunset as the lights come on at Mike Rose Soccer Complex (photo from Mike Rose Soccer Complex)
Coming Soon:
As an extra bonus, we wanted to include something to look forward to in the future! Chattanooga-based High Point Climbing and Fitness recently unveiled plans to build a new facility in East Memphis. This state of the art climbing facility will provide a great workout and will "be one of the top ten facilities in the U.S.," according to High Point partner and President John Wiygul.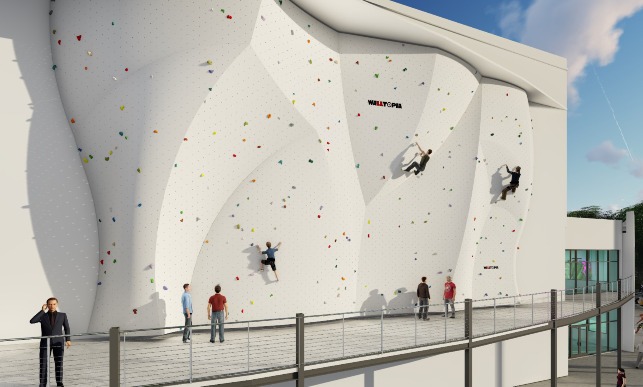 Artist rendering of the Memphis facility's outdoor climbing wall via High Ground News
The JudyMac Team
These are just some of the many wonderful options for living an active and healthy life available to those of us lucky enough to call Memphis, Germantown, or Collierville home! We hope you'll find this guide useful and enjoy some of our recommendations as you keep moving in the 901. If you're interested in finding out more about life in the Greater Memphis Area, The JudyMac Team is here to help! You can browse some of our current listings here, get in touch with Judy today at 901.277.5839 (cell) or call our office at 901.756.8900 to schedule a showing or discuss your options. No matter what your real estate needs, we'll find the perfect home for you!