Raven & Lily: Collierville's New Southern Eclectic Bistro
Posted by Mickey McLellan on Wednesday, July 25, 2018 at 4:19 PM
By Mickey McLellan / July 25, 2018
Comment
What You Can Expect From Raven & Lily
Raven & Lily Restaurant opened its doors in their location on the Collierville Square in August of 2018. The Southern Eclectic Bistro moved from its original home in Oakland, TN, much to the joy of Collierville, Germantown, and Memphis residents who could not make the drive to Oakland often enough. Before they moved from Oakland, we made the trek and stopped by for one of their final dinner services in the original location. It was worth every bit of driving time, but we are glad they're moving closer. Co-owners Chef Justin Young and his wife Amy welcomed us and spoke about their upcoming move to the Collierville Square. As you'll see from the pictures, we also enjoyed a DELICIOUS dinner. The food was so good, we were quick to visit again after their move! Check out our updated pictures at the bottom of this post.
The restaurant provides Collierville residents a much needed new dining option in the space previously occupied by Brooks Pharm2Fork. Similar to his predecessor, Chef Young is a huge supporter of the "eat local" movement, and he sources everything on the menu from local farmers. He changes the menu to accommodate what his farmers have available rather than buying from distributors. Patrons enjoy an ever-changing menu filled with freshly grown produce from farms within an hour of Memphis. Rest assured, though, there are some staples that will ALWAYS be on the menu, including the house specialty -- Shrimp & Grits.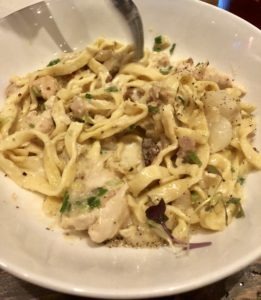 About Raven & Lily
Originally from Memphis, Young attended culinary school in Charleston, SC, where he developed a love for low-country food like the beautiful dish above. Young also honed his craft working in Lyon, France and then back home in Memphis for Erling Jensen Restaurant. Throughout our meal, Chef Justin's French training was apparent to all of us thanks to the rich flavors and unique sauces used in every dish. We commented multiple times that a certain item seemed better than usual. When asked what was made in-house, the Chef happily replied, "We make everything but the ketchup! Heinz does just fine on that, so we let them handle it." That's right, they make everything from the burger buns to the salad dressings… even the ice cream is made in-house, and they do it all using fresh, locally grown ingredients! As you can see from the extensive menu below, that's a lot of homemade goodness.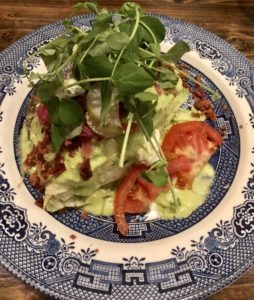 Appetizers
Our party had the opportunity to sample several of the menu items above, and all of them were good! The menu will constantly change based on what is in season, but the pictures give you an idea of what to expect. As mentioned above, the Shrimp & Grits is the house specialty, and it is arguably the best we have tried anywhere. Not just Memphis… ANYWHERE! We were joined at dinner by the "Organic Boss" from Winchester Farm in Whiteville, TN. Winchester Farm is owned by Memphian Peter Schutt and is one of several local farms Chef Justin buys from. The farm manager delivered a large order of fresh okra to the restaurant earlier that same day... Lucky us! Chef Justin created a special appetizer featuring fried and pickled okra accompanied by locally-grown microgreens. Along with the okra smorgasbord, we enjoyed appetizers of fried green tomatoes with a lemon caper remoulade and a root vegetable medley of sweet potatoes and carrots topped with house bacon, onions, and Danish blue cheese.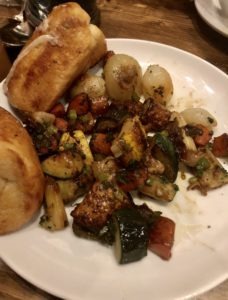 Entrees
The biggest problem we encountered during our meal at Raven & Lily was finding room to eat all of the delicious food placed in front of us! After forcing ourselves to stop eating the appetizers, we took a quick breather before the entrees arrived. We did our best to cover all of the categories. We ordered rich and tasty She Crab Soup, Southern Fried Chicken, a Gourmet Burger… and those incredible Shrimp & Grits! Everything was fantastic. The fried chicken tasted like it was made from a secret family recipe handed down through generations. The burger was far from ordinary, featuring house-baked buns, house-ground beef, and locally grown toppings... it will likely be a contender in all of your heated "Best Burger" debates with friends. The She Crab Soup and the Shrimp & Grits showcased the chef's culinary background. Although he is from around here, Chef Justin has studied and cooked with the best in Charleston, SC, and Lyon, France. Even our youngest diner was impressed by her chicken flatbread topped with cherry tomatoes and cheese!
Desserts
Despite hardly being able to move, we soldiered on and ordered a dessert, just for our readers! At our server's recommendation, we chose the Chocolate Souffle and sat back to wait and recover since it takes 15 minutes to make. Little did we know, the Chef had prepared a special dessert just for us-- homemade sorbet using strawberries grown on Winchester Farm on top of homemade shortbread and lemon curd. Amazing! Then the souffle arrived. Perfect! Seriously, everything was so phenomenally good, but you have to save room for dessert when you go. If forced to pick favorites, we would recommend the Fried Green Tomatoes, Shrimp & Grits, and the Souffle for a first meal. That said, you won't be able to go just once, so you can try the rest on the next visit.
Plan Your Visit
Raven & Lily is open for lunch and dinner throughout the week, and they also serve breakfast on the weekends. Although not required, we recommend calling and making a reservation for dinner. The food is so good, they may often have a wait for tables if you go unannounced. For more information about their hours and special events, visit their Facebook page or Raven & Lily Restaurant
The JudyMac Team Loves Collierville
Boasting a first-rate school system, award-winning parks and recreation facilities, numerous big-name clothing retailers, diverse dining options, and beautiful homes and neighborhoods, Collierville is one of the most desirable communities in Memphis to live, work, play, and learn in! If you're looking for all the amenities and convenience of a metro area combined with the quiet charm and character of a small town, Collierville could be calling you home. To learn more about all it has to offer, contact The JudyMac Team today! You can also browse some current Collierville listings here, or call us at 901-277-5839 to schedule a showing or discuss your options. No matter what your real estate needs, we'll find the perfect house for you and your family!