Removing Pet Odors From Your Home
Posted by Mickey McLellan on Thursday, July 29, 2021 at 2:31 PM
By Mickey McLellan / July 29, 2021
Comment
Are you a crazy cat lady? A dedicated dog lover? A pot-bellied pig person? Whatever your preferred pet, they're inevitably going to stink the place up from time to time. Your home is meant to be a sanctuary from the outside world, but how are you supposed to relax when your furry friend has a chronic case of serious funk? Thankfully, there are many ways to tackle pet odor so that you and your animals can continue living together in sweet-smelling harmony. Let's take a look at a few of our favorite tips and tricks for keeping your house free from malodorous misadventure!
Wash and dry their bedding regularly
There are few things our pets love more than laying around all day so their favorite bedding sees a lot of action. To keep odor to a minimum, wash and dry pet bed covers, cushion covers, pet blankets, sheets, and any other items your pet is attached to on a regular basis. Shampooing your carpet every few months can also help soak up some of the unpleasant smells your animal leaves behind.
Bathe your pet regularly, too
We know this can be an ordeal, but keeping your four-legged friends clean is half the battle when it comes to tackling tough odors! You can DIY it with a bottle of pet shampoo and your shower, tub, or even the garden hose. If they're too slippery for you to handle, or truly unmanageable when it comes to getting a good scrub-down, save yourself the trouble by scheduling regular appointments with an experienced groomer! Pet wipes like these for cats and dogs can be a great solution for situations that require quick smell removal in between baths.
Clean their toys, bowls, collars, and leashes
Much like children, a great deal of pet ownership revolves around cleaning up after them. Even so, it's easy to forget the importance of frequently washing things like toys, food and water bowls, collars, and leashes. These items can trap various odors and are a magnet for bacteria, too, so set up a regular schedule for wiping them down or washing them.
Break out the baking soda and vinegar
There are lots of essentials we keep around the house that can help keep pet smells to a minimum. Baking soda is a great odor neutralizer, which is why it's often used in refrigerators and freezers. To get a similar effect, sprinkling a bit on your pet's bed or the couch cushions after testing a small area first. Let it sit for a few minutes, then vacuum it up for a refreshing breath of freshness! For more serious odors, dilute vinegar in water then spray it on your carpets, floors, cushions, or bedding for a powerful punch of odor elimination.
Explore enzymatic cleaners
If pet urine is your problem, no worries—you've got options! Enzymatic neutralizers like Nature's Miracle can be used to spot-treat affected areas. In most cases, the odor can be completely eliminated. There are formulations for both cats and dogs, so be sure to pick up the right product. Even if your pets are completely potty trained, it's smart to keep this kind of cleaner on hand just in case an accident happens.
How about a HEPA filter?
Pet hair and dander can add a whole new element to odor issues, especially if you're prone to allergies. To make the most of the air all around you, check out a purifier that has a HEPA filter with it! This filter forces air through a fine mesh material to trap harmful particles and irritants. Get the biggest bang for your buck by investing in a HEPA-filtered vacuum cleaner, too.
Absorb the odors away
Odor eliminators and absorbers come in many different styles, smells, and designs. Remember: you don't want to simply mask the bad smells. You want to eliminate them! Gels like these can be placed in whatever room they're needed and don't emit any scent of their own. As the gel evaporates in the air, you're left with nothing but a space that is clean and fresh!
Don't skip the easy-to-forget areas
Sometimes our pets end up in weird places. If your cat has claimed the top of the stairs or your dog is determined to sleep in your closet every time there's a storm, those areas can soak up undesirable smells just like the more obvious items can. Take care to vacuum and spot clean anywhere your animals like to hang out to ensure unwanted odors are eliminated on a regular basis.
Throw open the windows
This one might be difficult to pull off in the middle of a Mid-South summer, given the inescapable heat and the ludicrous bug situation. But the rest of the year offers homeowners a prime opportunity to get some fresh air circulating through the house! When the weather permits, open all your windows and allow the breeze to help neutralize annoying odors. Even in the winter, opening a single window for a few minutes at a time will be beneficial.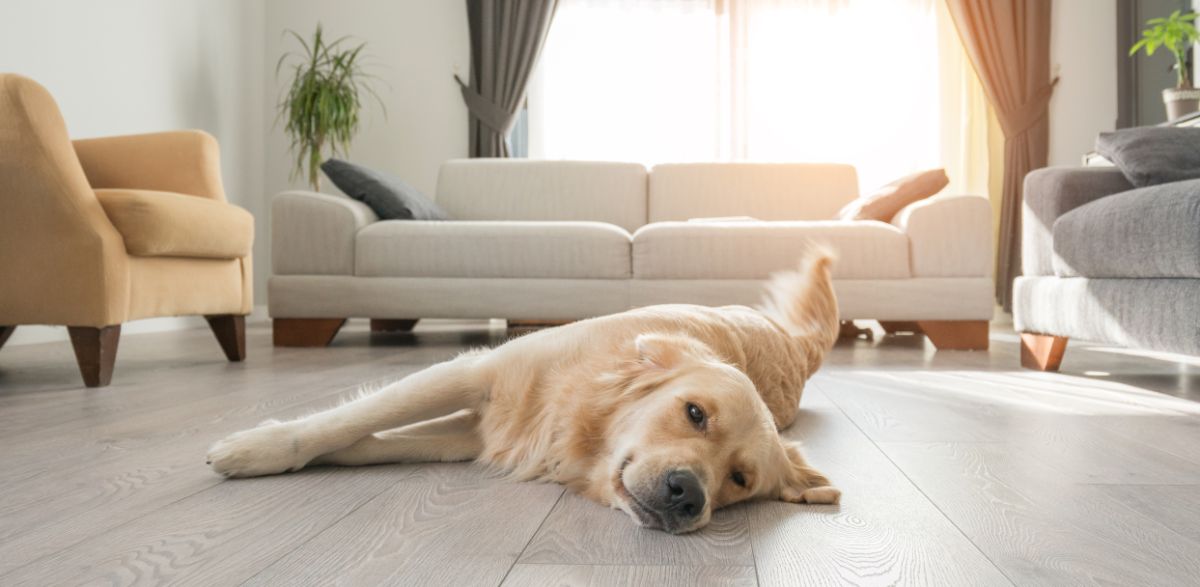 Find the perfect home for you and your pets with the JudyMac Team of Crye-Leike Realtors
Living with a pet doesn't have to mean living with pet odor! With a regular schedule of cleaning, bathing, and washing, you should be able to neutralize the worst of the smells and keep your home clean and fresh. And remember: if you're looking for the next home for you and your furry friends in Downtown, Midtown, East Memphis, Germantown, Collierville, and beyond, the JudyMac Team of Crye-Leike Realtors has you covered. Get in touch with us anytime to learn how we can help!