Seven Super Easy Day Trips from Memphis
Posted by Mickey McLellan on Wednesday, May 23, 2018 at 9:55 AM
By Mickey McLellan / May 23, 2018
Comment
Memphis is a vibrant city offering a variety of entertainment options for families looking for something to do this summer, whether it is taking advantage of the air-conditioned indoors or working up a healthy sweat in our wealth of sunshine. Sometimes, however, you have an itch to get away from the familiar that can only be scratched with a day trip! Because we are located in the far southwestern corner of the state, you may think that Memphis is lacking in easy getaways, but we have got good news for you: between Tennessee, Mississippi, and Arkansas, there are a wealth of fun things to do within driving distance, and The JudyMac Team of Crye-Leike Realtors has put together a list of some of our favorites. There is a little something for everyone, so keep reading to learn all about your family's next adventure!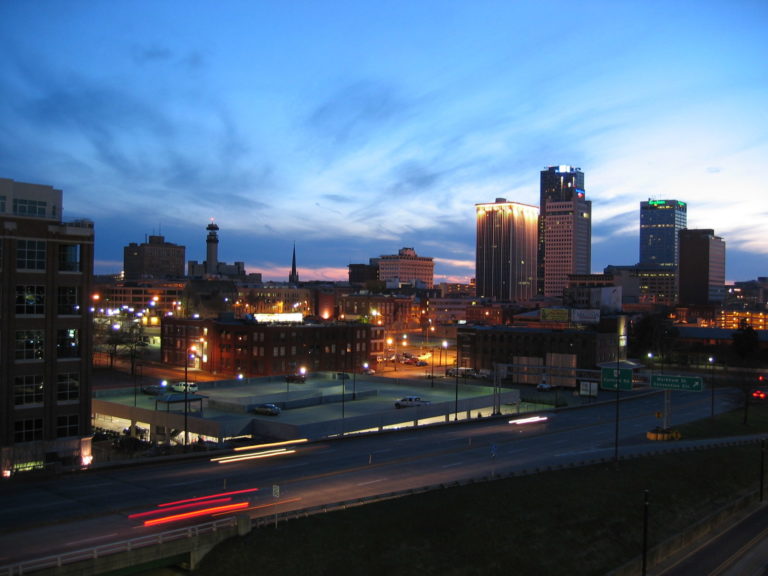 Little Rock, AR
Travel Time: Around 2 hours (137 miles)
As the capital city of Arkansas, Little Rock is full of Southern history and culture. Stop in the William J. Clinton Presidential Library and Museum in the River Market District, which has been a top tourist spot since it opened in 2004. The South Main District features the only purse museum in the United States, the Esse Purse Museum, and the Loblolly Creamery will satisfy any sweet tooth with its small-batch ice cream, fizzy sodas, and other locally-sourced treats. The Arkansas Arts Center contains one of the largest collections of works on paper, and if you have got a foodie in the family, One Eleven at the Capital features meals by Michelin star and James Beard Award-winning Chef Joel Antunes. Close out your day by watching the River Lights in the Rock turn the downtown bridges into bright, beautiful color.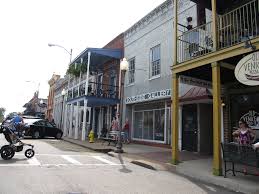 Oxford, MS
Travel time: About an hour and a half (86 miles)
Oxford has more to offer than just Ole Miss! The Burns-Belfry Museum & Multicultural Center is dedicated to African-American history, from slavery to Civil Rights, and you can spend some time at Rowan Oak, the home of William Faulkner. For music buffs, there is a tour of The Blues Archive on the Ole Miss campus, and art lovers can visit the University of Mississippi Museum's collection of Southern folk art and antiquities. Love to shop? Historic Oxford Square has an amazing set of shops and boutiques, and do not forget to start your day off right with a delicious meal at Big Bad Breakfast, helmed by John Currence, another James Beard award-winning chef who also owns City Grocery, Snackbar, and Boure if you're looking for delicious meals later in the day! It's hard to beat a Saturday in The Grove for a college football gameday experience, but some of our other favorite times to visit Oxford are during the annual Double Decker Festival in the Spring, and October's Southern Foodways Symposium.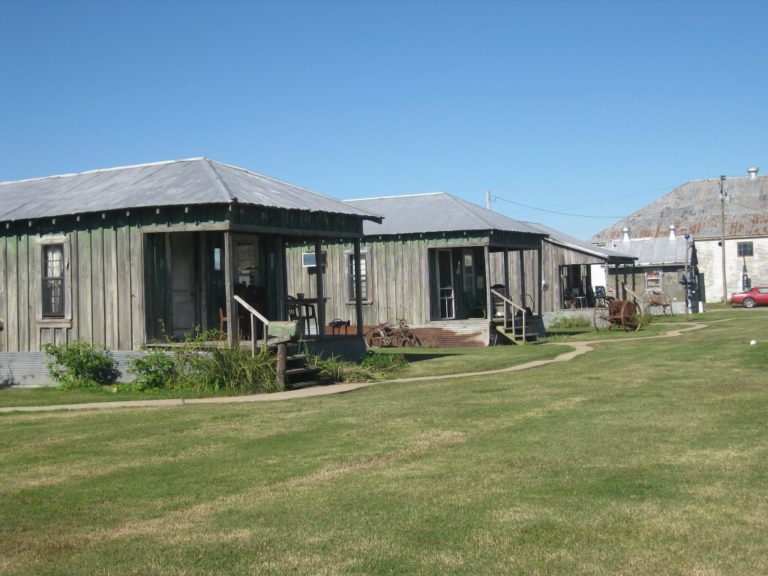 Clarksdale, MS
Distance from Memphis: About an hour and a half (75 miles)
This North Mississippi town is known for its distinctly Delta flavor. Brush up on your Blues trivia by visiting the mythical Crossroads at the intersection of Highways 61 and 49, where legendary bluesman Robert Johnson is rumored to have sold his soul to the Devil in return for talent and success. You will be surprised by the international appeal of this spot, as tourists from all over the world can be seen snapping photos at any time, before heading next door for lunch at Abe's BBQ. After you check out the mythical crossroads, the National Medal winning Delta Blues Museum is just a short drive away in downtown, where you can learn more of the facts and see the childhood home of Muddy Waters. Clarksdale is also Tennessee Williams country. He lived in the parsonage of St. George's Episcopal Church, where his grandfather was a pastor, and there are self-guided walking tours of the playwright's historic neighborhood available. Actor Morgan Freeman has a tourist-friendly place to chow down for lunch or hear live music at night in Ground Zero Blues Club; in fact, you can hear live music 7 nights a week in this funky little town, just stop by Roger Stolle's Cat Head Delta Blues & Folk Arts store for the weekly lineup. If you're looking for a cool place to stay, you absolutely must check out the Shack Up Inn just south of town. They are a self-proclaimed "Bed and Beer" establishment, and the rooms are mostly refurbished old sharecropper shacks and cotton gins. The Shacks are also home to the Juke Joint Chapel, where traveling musician stop to ply their trade in the home of the blues. Other notable eateries favorited by the locals include Levon's, Yazoo Pass, The Ranchero, and Our Grandma's Pancake House. Our favorite times to visit are during the Juke Joint Festival in April or the Sunflower River Blues & Gospel Festival if you can stand the August heat!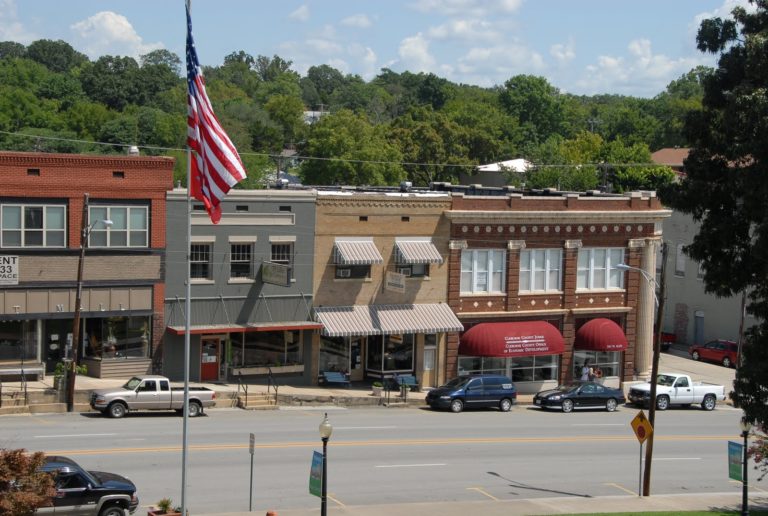 Heber Springs, AR
Distance: Just over two and a half hours (116 miles)
If you are looking to spend a day playing on a lake, Heber Springs is a perfect pick. Instead of a six-hour drive to the coast, Sandy Beach is a beautiful destination in half the distance. Families can swim, build sandcastles, play a little volleyball, or picnic under the pavilions. Boats can be rented at the Dam Site Marina, as well as other water accessories. For the daredevil in your family, there are cliffs varying in height from 3 to 30 feet, just waiting to be jumped off of! In addition to the lake, Heber Springs is also located right next to the Greers Ferry National Fish Hatchery on the Little Red River, which boasts some of the nation's best trout fishing! If you want to skip the water, the Ozark Country Market is a fantastic way to spend a day looking at all the plants, produce, candies, and Amish products on display… Christmas gifts!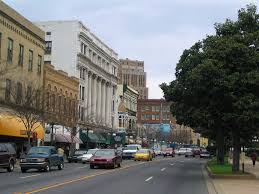 Hot Springs, AR
Distance: Around 3 hours (178 miles)
Hot Springs is an excellent destination if you only have a day but want to fit a lot into it. If you're looking for a fun Spring trip, Oaklawn is ranked as one of the nation's best-thoroughbred racetracks, recently having featured American Pharoah twice in his lead-up to winning the Triple Crown in 2015. The Mid-America Science Museum is a local favorite for learning and exploration. For nature lovers, hit the Garvan Woodland Gardens for beautiful flora and fauna, the Anthony Chapel, and even a waterfall! If the summer heat is too much to handle, head over to the Magic Springs Theme and Water Park to cool off, and grab lunch at longtime favorite Ambrosia Bakery on the way. If you are a family of hikers, hit the scenic trails of the Lake Catherine and Lake Ouachita state parks, and take in the waterfalls, swimming, boating, and mountain biking. To round out your day, the Lake Hamilton riverboat sunset cruise on the Belle of Hot Springs is a great way to wind down after a busy day.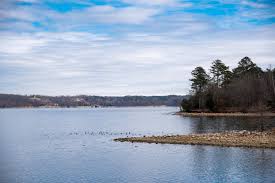 Pickwick Landing State Park, TN
Distance: Two hours (119 miles)
Though the park has ample accommodation available, Pickwick is close enough to be a fantastic single day getaway. Circle Beach, Sandy Beach, and Bruton Branch are located in the day-use area and primitive areas, and they make up Pickwick's two miles of public swimming beaches. The lake and river also offer fishing, boating, swimming, and a marina, which has boat rentals available. If water sports are not your thing, your family can also enjoy a picnic, disc golf, nature walks, tennis, or bird watching. Pickwick Lake is famous for its smallmouth bass and Tennessee River Catfish, and some of Tennessee's biggest fishing tournaments are located here. For those interested in Civil War history, Shiloh National Military Park, one of the best preserved Civil War military history sites in the country, and is just a short 15-minute drive from Pickwick Landing. While there, be sure to grab a bite to eat at Hagy's Catfish Hotel, which history buffs will love since it was occupied by Union soldiers during the Battle of Shiloh, but foodies will just be happy about the delicious Southern food they have been serving for more than 75 years!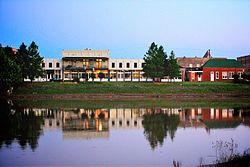 Greenwood, MS
Distance: Two Hours and Ten Mins (130 miles)
Located in the heart of the Mississippi Delta and known as "The Cotton Capital of the World," Greenwood makes the perfect, easy weekend getaway for Memphians, yet it's also close enough for a quick, one-day trip. If you watched "The Help," you may already be familiar with many of the streets and historic homes in the town like Hilly Holbrook's house and Skeeter Phelan's farm, and you can take a quick driving tour of the filming locations. Now, our FAVORITE place to go to Greenwood is The Alluvian Hotel, located right in the middle of Downtown. Luxurious and chic from the moment you enter, this hotel somehow offers big-city amenities, while simultaneously staying true to its MS Delta surroundings. Even if you are only in town for the day, the hotel is worth a visit! Plus, there are wonderful dining options inside or nearby The Alluvian such as Giardina's, Lusco's, and The Crystal Grill. If you want to add some impressive skills to your own cooking, sign up for a class at The Viking Cooking School (inside The Alluvian), where you will still enjoy delicious food… after you cook it! Lastly, it wouldn't be a true Delta town without some Blues history, right? If you are looking for a little adventure, break out your gps, or better yet, ask a local for some hand-written directions, and try to track down the location of all 3 of Robert Johnson's gravesites. Yes, there are THREE!
The JudyMac Team of Crye-Leike Realtors wishes you a happy summer!
Summer is the perfect time to explore the city around you right here in Memphis, and it is also a great opportunity to look into what kind of fun the surrounding areas have to offer you and your family. With a little planning and a full tank of gas, there are destinations within driving distance to complement all interests and ages. Whether you decide to spend your summer vacation here at home or crisscrossing the Mid-South, we wish you a happy and safe one!