Unemployment: Hope on the Horizon
Posted by Mickey McLellan on Friday, May 8, 2020 at 12:16 PM
By Mickey McLellan / May 8, 2020
Comment
As our country continues to deal with the COVID-19 pandemic, news of unemployment is the worst it's been since the Great Depression. We know many communities have been devastated by the spread of the virus, causing many businesses and professions to suffer, and our hearts go out to everyone impacted. Fortunately, the real estate business has been deemed an essential service. We've been as busy as ever, listing and selling homes quickly, receiving multiple offers even on luxury properties. While unemployment numbers may be bad today, we're certain there is Hope on the Horizon, for our communities and for our country.
The unemployment rate for April 2020 will be released by the U.S. Bureau of Labor Statistics today. It will hit a peak this country may have never seen before, with data representing real families and lives affected by this economic slowdown. The numbers will alarm us. There will be headlines and doomsday scenarios in the media. There is hope, though, that as businesses reopen, most people will become employed again soon. Last month's report indicated we initially lost over 700,000 jobs in this country, and the unemployment rate quickly rose to 4.4%. With the release of the new data, that number will climb even higher. Experts forecast this report will show somewhere between a 15% – 20% national unemployment rate, and some anticipate that number to be even greater (see graph below):
WHAT'S HAPPENED OVER THE LAST SEVERAL WEEKS?
Here's a breakdown of this spring's weekly unemployment filings: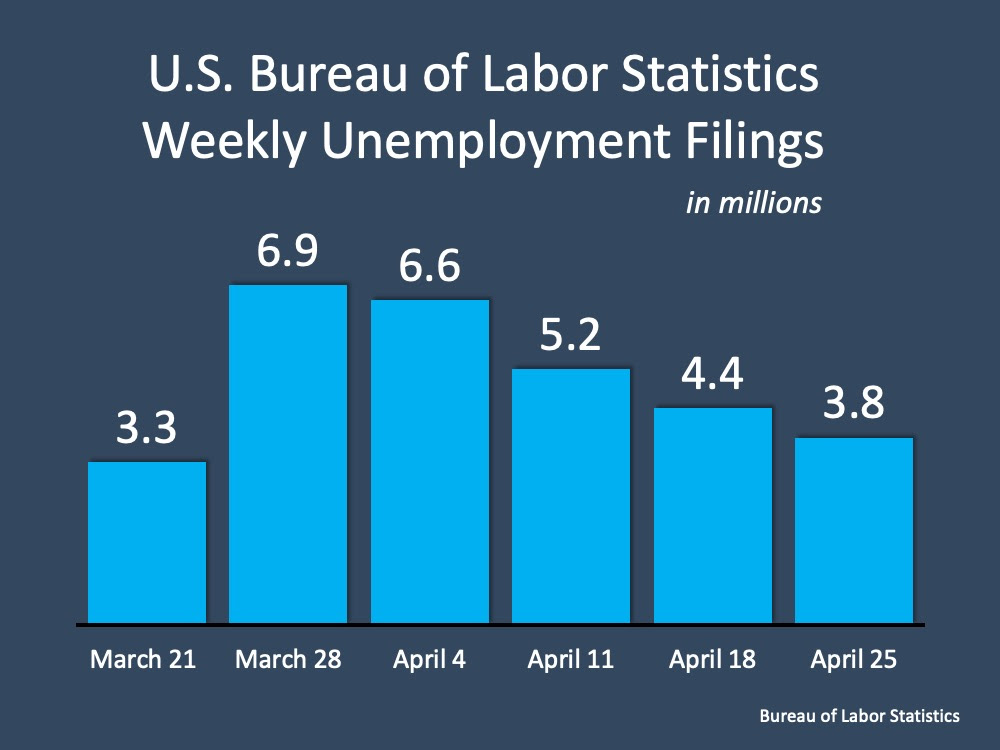 The good news shown here indicates the number of additional unemployment claims has decreased week over week since the beginning of April. Carlos Rodriguez, CEO of Automatic Data Processing (ADP) says based on what he's seeing:
It's possible that companies are already anticipating some kind of normalization, opening in certain states and starting to post jobs.
He goes on to say that this doesn't mean all companies are hiring, but it could mean they are at the point where they're not cutting jobs anymore. Let's hope this trend continues.
WHAT WILL THE FUTURE BRING?
Most experts predict that while unemployment is high right now, it won't be that way for long. The length of unemployment during this crisis is projected to be significantly shorter than the duration seen in the Great Recession and the Great Depression.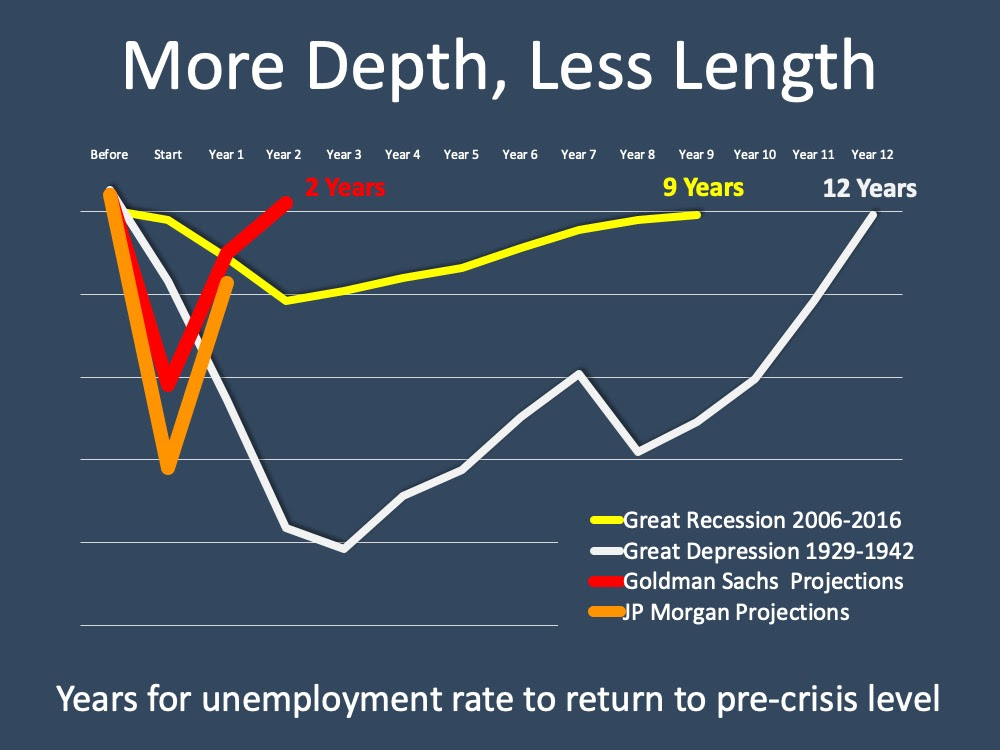 While forecasts may be high, the numbers are trending down and the length of time isn't expected to last forever.
Bottom Line
Don't let the headlines rattle you. There's hope coming as we start to safely reopen businesses throughout the country. Unemployment affects our families, our businesses, and our country. Our job is to rally around those impacted and do our part to support them through this time.